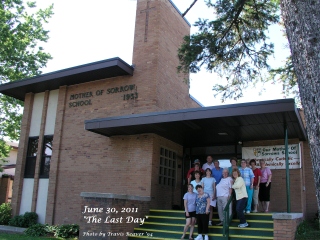 Faculty present the last morning the school was open
(click for full image)

Although our beloved school has closed, the countless memories, teachings, values, and friendships gathered from within its walls
will forever be in the minds and hearts of the alumni, faculty, and staff.
Help to keep those memories fresh, and connect with fellow classmates and colleagues!

I'm Travis Beaver, from the Class of 1994. I attended MOS from kindergarten through 8th grade.
I wanted to do something to preserve the history of the school and make it easy for all to see.
The site is very simple in design due to personal time constraints.
As you can see, the color theme is, of course, green and gold!
The site will of course focus on the most important aspect of MOS - its people.
There will also be a great amount of information, photos, and videos of the actual buildings that sheltered us all during many school days.
I hope you enjoy this work in progress!*
*This site requires the use of the Adobe PDF Reader. Download it free from HERE.

Contact: travbeav@gmail.com
Don't see the MOS logo in the top left corner?
CLICK HERE FOR THE HOME PAGE

Last updated October 26, 2017

Site created and maintained by Travis Beaver '94.
This site is not affiliated with, or officially endorsed by, the Diocese of Rochester or Our Mother of Sorrows Parish.